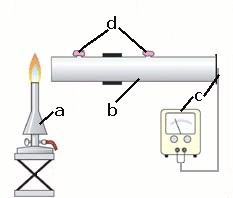 Figure 1. Experimental set-up for E1.
a: gas burner; b: metal tube (made from cans) with two openings; c: temperature sensor with indicating instrument; d: play dough to close openings.
© 2004 Tausch, Seesing; Uni-Duisburg-Essen, Duisburg [Lit.: Tausch, von Wachtendonk: Chemie 2000+; Buchner Verlag; Bamberg 2001]

Heat absorption:

Figure 1. shows you how to set up the experiment. To make the metal tube, remove the lids and bases from two cans. Connect the cans with tape so that the join is airtight and drill two holes into the tube as openings. Close these openings with play dough. Fit a piece of black cardboard over one end of the tube, again making sure the join is airtight. Attach the tip of a temperature sensor onto the cardboard using scotch tape. Cover with aluminium foil. This way you get a detector of heat radiation.
Place a bunsen burner between 10 and 15 cm away from the other end of the tube. Make sure the distance is the same in all the experiments.
The heat radiation warms the black cardboard and the change in temperature is recorded by the temperature sensor. During each series of experiments record the temperature every 30 seconds and plot it graphically. Carry out each experiment for three minutes. Make sure the metal tube has cooled down to the initial temperature before you start the next experiment (you might need a cold air hair-drier).