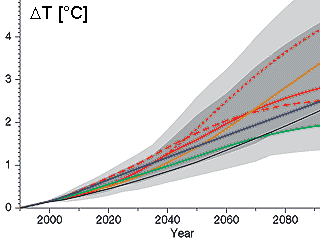 1. Climate scenarios of the Intergovernmental Panel on Climate Change IPCC: The potential increase in the global temperature is calculated for diverse estimations. This does not only include the climate factors themselves. Developments in the world's population, the global economy, energy policy and new technologies also have to be considered.
Please click the image in order to see the original graph.
Source: IPCC TAR - Summary for Policymakers



The larger the present-day aerosol cooling, the more extreme the temperature increase in the future.
The present climate scenarios were initially developed from 1990 – 1992 and have been since been improved (IPCC scenarios). The models are partially based on estimations of climate changes in the distant past (paleoclimatology) as temperature changes and developments in the carbon dioxide content of the air between glacial times and interglacials, i.e. warm periods in the Earth's history. However, many factors in the climate models are verified by simulating the changes in the last 200 years because from this period we have much more reliable data from modern meteorological measurements and scientific observation.