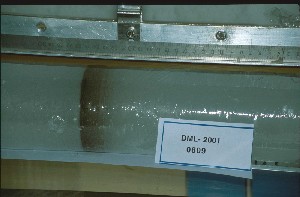 2. TRACES OF THE PAST: By drilling deep into mountain glaciers and the ice caps on Antarctica and Greenland, scientists can analyze old ice to find out about the climate in the past. The ice core on the picture contains dust from a volcanic eruption, carried by the wind from far away. Photo: Marzena Kaczmarska/NPI (click to enlarge, 21 kB)

The sea level increased by 1–2 mm per year during the 1900s.

The period when ice covers lakes and rivers became on average two weeks shorter during the 1900s.

Glaciers outside the polar regions have receded.

Permafrost (ground or bedrock that is always frozen) in polar and mountain regions has thawed.